Bistro
Menu
Enjoy our selection of French inspired cuisine curated by our very own Chef Brandon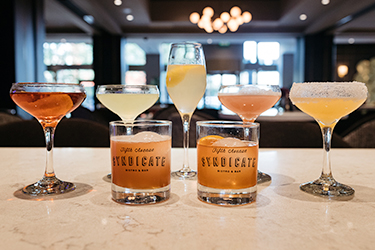 Bistro Menu
Enjoy our selection of French inspired cuisine curated by our very own Chef Brandon.
Order Online
Appetizers
Wheat Berry Bread, Herbed Goat Cheese, Wild Mushroom Blend, Madeira Cream

with Bacon & Gruyere, served with crostini

Whipped Goat Cheese, Roasted Garlic, Chives, Roasted Red Pepper, Candied Walnuts, Calabrian Pepper, Toasted Crostini

Sriracha Mustard, Smoked Paprika, Lemon

50/50 bacon & Certified Angus Beef® Blend, Cheese Fondue, shredded Brussels, Pickled Red Onion

White Wine, Cream, Crostini
Salads
Dressing Choices: Ranch, French, 1000 Island, Bleu Cheese, Balsamic, Italian, Garlic, Honey Mustard, Poppyseed
Add Ons: Steak, chicken, tuna, salmon - $5
Romaine & Mixed Greens, Basil, Tomato, Mozzarella, Red Onion, Balsamic Reduction, White Balsamic Vinaigrette, Crostini

romaine & Mixed Greens, Blackened Sirloin, Red Onion, Cherry Tomato, Parmesan, Blue Cheese, Crostini, White Balsamic

romaine, house-Made Caesar, Parmesan, Croutons
Soup
Cup - $5 | Bowl - $6.50
French Onion

Tomato Basil
Sandwiches
Served with your choice of one side
50/50 Bacon & Certified Angus Beef® Blend, Wild Mushrooms, Gruyere Cheese, Bibb Lettuce, Tomato, Brioche Bun

Smoked Brisket, Sauteed Onions & Peppers, Provolone, Blue Cheese Crumbles, Hoagie Roll, Au Jus

Choice of Sliced Ham or Turkey, Bechamel Sauce, Dijon Mustard, Gruyere Cheese, Sunny Side Up Egg

Sushi Grade Ahi Tuna, Avocado Fries, Pico de Gallo, Leaf Lettuce, Sriracha Mustard, Brioche Bun

Pulled Pork, Ham, Pickle, Swiss, Dijon Mustard, Hoagie Roll

Sirloin Steak, Smoked Gouda Fondue, Caramelized Onion, Sun-dried Tomato, Pepperoncini, Arcadian Greens, Roasted Red Pepper Aioli, Baguette
Entrées
50/50 bacon & Certified Angus Beef® blend wrapped inside a puff pastry, asparagus, Garlic Mashed Potatoes, Demi-Glace

Kalamata Olive Garlic Mashed Potatoes, Ratatouille, Crispy Leeks

Seasoned 11oz Ribeye prepared to your liking, fingerling Potatoes, Asparagus, Demi-Glace

beef tenderloin, pearl onion, chianti reduction, sun dried tomato hollandaise, goat cheese creamed spinach

Crispy pan seared chicken breasts, arugula, cherry tomatoes, roasted red peppers, White Balsamic, cavatappi, lemon butter sauce

Cavatappi, Cheese Fondue, Lardons, Sundried Tomato, Buttery Bread Crumbs, Crostini

shrimp, scallops, crab, whitefish, mussels, rich broth, toasted bread rouille

Blackened Tuna Gnocchi

23

Sushi Grade Ahi Tuna, Gnocchi, brunoise vegetable, Buerre Blanc, crostini

3 Pieces of Cod, House Frites, Tartar Sauce, Lemon and Coleslaw
Sides
Crispy Brussels Sprouts

6
Desserts
Puff Pastry, Caramel Sauce, Cinnamon Ice Cream

St. Germain Crème Brulée

10

Creme Brulée + St. Germaine Infused Berries

Candied Walnuts, Chocolate Sauce, Caramel

White chocolate, melba sauce, berries, mint
Download Menu
"Extremely friendly staff, excellent food and drinks. Had a great time! Recommend the avocado fries, 50/50 meatloaf, chicken franchise. All excellent."
"Came in for dinner on a Sunday night. It was busy but we were served very quickly. Had the burger and frites. Best burger I've had in quite awhile. Seasonal Irish stew was phenomenal!!! We will be back!"
"Pleasantly surprised. It's larger than expected. I thought would feel crowded but we didn't. We had a group of 8. Everyone loved their meals. Staff and food was was exceptional. I can't wait to go back!!"
"Stopped in for drinks and appetizers. Thrilled to find a new bar/restaurant downtown moline. Great atmosphere and happy hour appetizers. Definitely plan on returning soon to eat other item on their menu. Loved the seating arrangement and ambience"
HOURS OF OPERATION
Monday - Thursday
4pm - 9pm
Friday - Saturday
4pm - 10pm
Sunday
Closed